Aside from the awesome number of people who "get it", there is one question that consistently floats around the fishing community;
"What makes a Pavati Drift Boat so special?"
That's a fantastic question, and we love hearing that to be honest. We've got plenty to talk about here.
Pavati Drift Boats, since inception have broken the mold and spared no expense on research, development, materials, and production. Rather than make claims on why we make the best boat in the industry, we strive to consistently prove it with those mentioned ingredients that go into rolling out a finished boat. Countless hours, trials and testing continue to be the standard, and we never come up with an idea we don't thoroughly explore. To think that we've absolutely nailed it so clean that we never have to change anything would be the biggest mistake we could ever make. When you break it down, two characteristics lay down the foundation for Pavati Boats: Functionality and Innovation.
These two focus points are the backbone of our boat-building business and are what sets us apart from the competition. Willie Boats, Clackacraft Drift Boats, Hyde Drift Boats, Koffler Boats, RiverWolf Boats, (it goes on) all make unbelievably great drift boats and each company is truly making the fishing industry better every single day in doing so. We're all for that. However, the Pavati difference is the willingness and desire to constantly innovate with the goal of ultimate ease and functionality for the end user fisherman paving the way.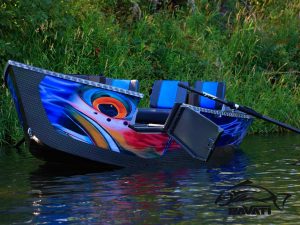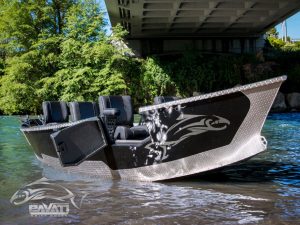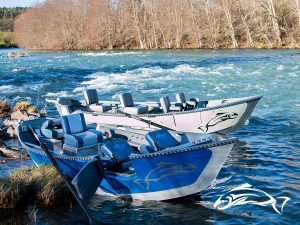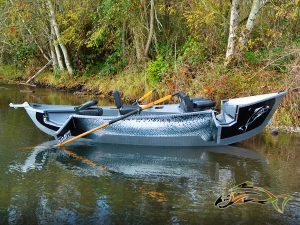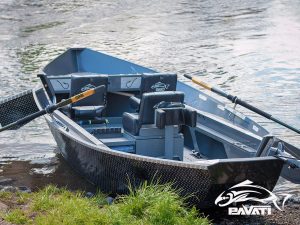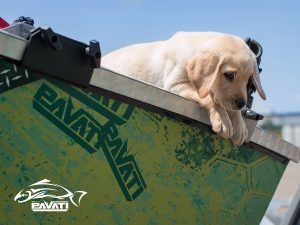 So, what exactly do we mean when we say we're constantly innovating?
When Pavati started building drift boats in 2003 there were zero active drift boat patents – a sign that drift boat innovation had plateaued. The market was primed and ready for new technology and new ways to create a better fishing experience, so we took action. To date, Pavati has 16 active drift boat patents, all of which pertain to things that make boat functionality and the entire experience for fishermen exponentially better. Drift boat doors, level floor systems, fully adjustable seating/accessory arrangements, grab handles on the hull, just to name a few. Innovation is what inspires and motivates our brand.
We're very proud to be the leaders of the fishing boat industry, and will always strive to pave the way. There's nothing we won't explore, it's always blue sky thinking around here. With 5 in-house engineers that turn our crazy ideas into legitimate scientific and mathematical realities, we treat everything like it's possible. Heck, just spend 5 minutes any day of the week drinking coffee in our sales and marketing office and you'll know what we mean.
Too Expensive?
There are a couple things we never hear our customers say; that they wish our quality matched the price, or that we offered better features or better options for a more personalized boat that they could justify purchasing. Your boat build goes so much further than just picking the color of your boat and how many seats you think you'll need. From top to bottom we'll deck you out. You want a custom graphic designed wrap with a Kevlar® overlay on the hull? Done. How about a custom color combination with your guide service logo embroidered in the seat backs? Send over the artwork. Powder coated floors and hull to match the color of your seats or boat accent color? You bet. Tip to tail, the level of quality and features in our boats outpace anything this industry has ever seen. Once you get yourself into a Pavati, you'll never want out!
The list of options available to you when you build a boat with us is nearly endless. Here's a couple of standard features just to help paint the picture:
-Drift Boat Doors (Up To 4)
-Quick-Lock Floor System ™
-"The Truth" Fish Measuring Ruler
-Ultimate Rowers Seat
-12 Position Oar Lock
-Patented Locking Anchor Nest ™
-Pizza Oven (Yes, A Propane Heated Pizza Oven)
-The "Element" Seats – The Most Comfortable Drift Boat Seats Ever Built
Additional Features Available:
-Powder Coated Aluminum
-Custom Designed Wrap
-Foot Stomp Anchor
-Many, Many More
Truthfully, when it comes to the price discussion, we won't argue with you. We just know what it takes to manufacture a Pavati Boat and we know once you fish out of one, you'll understand too. Consider taking a look at a BMW, Lexus or Mercedes car for example. On the surface you'd promise up and down you could never justify paying that much for a silly car. BUT. Then you get bored one Saturday and test drive one. All the sudden what was once ridiculous, becomes the center of your focus! The bottom line is that the difference is in the formula. The grade of materials we use, the time we take to make everything perfect, and what we offer to fishermen in the form of features is industry leading. Are we saying that we're the BMW, Lexus or Mercedes of drift boats? Who knows. We'll leave that up to you to decide, just come take a test row before you judge us too hard! We've got a pretty good idea of what you'll think.
These are just some of the reasons why Pavati continues to hold that "Dream Boat" title for anybody who owns, or wishes to own their own drift boat. If you are interested in seeing what the revolution is all about, come take a test row! We are always available for you to get on the sticks and test one of our boats for yourself.